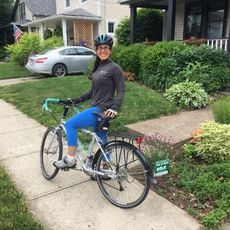 I love trees, people, the planet, and making a difference. And one of the best ways to share that love is to support the work of the TREE Fund. I am raising funds as part of my participation in Tour des Trees 2019 both as a rider and volunteer. I invite the OneTreeLove community to support this treemendous organization by giving whatever.
The more people that know about TREE Fund, the greater their impact, so please also spread the word by sharing my page with your friends and family. Thank you in advance for your generosity, it means a [tree] lot!
Becoming a OneTreeLove Tour des Tree sponsor and receive the following benefits:
Root $100
Recognition on OneTreeLove.com, OTL Facebook page, and Enews with name and/or logo (throughout remainder of 2019)
Acknowledgement at OTL yogAdventure fundraisers
Trunk $250
Above benefits
Private yogAdventure with hike option for up to six people (up to 90 minutes)
Crown $500
Root benefits plus one of the following:
Two private yogAdventures with hike option for up to six people (up to 90 minutes each)
Single private yogAdventure for up to 15 people (up to 90 minutes)
Standup Paddle Board (SUP) YogAdventure session for up to three people (up to 120 minutes; board rental included; beyond 30 miles from Cleveland may require additional travel fee)
Please donate to the Tour des Trees 2019 fund today via the link below!
https://tour-des-trees-2019.everydayhero.com/us/onetreelove-lisa-meranti