Reflections with Lisa
September 2020 ~ Lisa Meranti
I am so grateful to share my backstory, self-love practices, and tip for living well in the Wake Up with Gratitude Podcast episode #67. I hope you can give a listen and share this episode and others developed by friend Julie Boyer to help you live with gratitude daily.
Tour des Trees 2019 ~ Lisa Meranti
October 17, 2019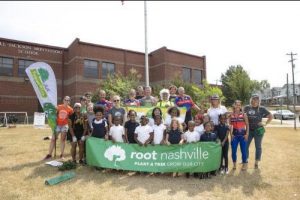 Photo: School program during Tour des Trees @ Hull-Jackson Montessori School, Nashville, TN | Sept 2019
Together, the OneTreeLove community raised over $5000 for the TREE Fund's Tour des Trees this year. Thank you for your support of tree research and education. I treasure each of you treemendous beings!
Here is a little feel of what the Tour was like for me:
Day 4- Pennyrile to Clarksville
We woke up to a midst covered lake at Pennyrile State Park Lodge. The cool air was something to savor as we had another warm day and 90 hilly miles ahead of us to Clarksville. I got to soak it all in with a short solo hike and yoga before a hearty breakfast and a steep climb out of the lodge. At the top of the hill, we were greeted by more hills and for me the thrill of riding in a 30-person paceline. Lucky, for this tour newbie, I got some good coaching and practice earlier in the week with a smaller group. As we rode on and the group thinned out, I got more chances to experience just what a special community and tree family is on the tour. Each stop provided the Tour des Trees special treatment from blessing a mature tree with the local Lions to having lunch with the church ladies in Bumpus Mills to an ice cream stop with the ACRT team to a spacious bathroom at the Duttonsville Community Center. For me this day will be forever engraved in me for the people I got to ride with and be supported by.  My tree heroes for the day were the two 'big dawg' riders (their term, not mine) that I biked 71 miles with as they shielding me from headwinds and passing traffic, the amazing support volunteer Karen that shuttled us ahead between the last two rest stops of the day, and the phenomenal masseuse Denise that treated me to a relaxing post-ride massage. To round out the night, we all had dinner at various places throughout the charming downtown of Clarksville.
Day 5- Clarksville to Nashville
Tour des Trees is so much more than fundraising and biking it is tree friend-raising. To gain the full experience of the Tour, I spent the day with the tree-mendous Professor Elwood Pricklethorn (P.E.P). We started off at Moore Magnet STEM School where the third and fourth graders soaked up all the tree knowledge and fun at the P.E.P. Rally. By the end of the Rally, these kids knew the value of trees and how to plant the right tree in the right place. The second P.E.P. Rally was a treefecta program at Hull-Jackson Montessori School. I started the program off priming the kids for the Professor with breathing like a tree, then they participated in the Professor's award-winning P.E.P Rally, followed by field tree games with a rider parade, and a tree dedication. What a great way to finish up the tour!!!
Treemendous thanks to The Roots, Truck and Crown sponsors – Bath Hollow Farm, 24 Karrot Kitchen*, Purplebrown Farmstead*, Elizabeth B, Stephanie Jain, Lisa Kahl, Anna & Michael P, Christopher Vild, Tree Hugger, Tom Miller, and ANONYMOUS.
*denotes in-kind support
Un-wasted Reflections ~ Stephanie Jain
February 19, 2019
I deeply appreciate Lisa's work with OneTreeLove – connecting mind, body, and planet – and one of the most meaningful ways I have explored doing that is…*drum roll*…by reducing my waste! No, it isn't glamorous, nor is it always easy. But over the past five years, I have been on a journey, which continues to unfold, of becoming a more thoughtful consumer of goods, space, and time. This evolution has drawn me closer to the people and activities I love, and it has plugged me into a realization that all life on Earth is deeply interconnected.
It started with veganism. My partner was raised vegetarian, and I had abstained from meat for seven years when we began exploring documentary movies about the negative impacts of animal agriculture. In January 2014, after much debate about cheese-less pizza, we committed to a plant-based lifestyle with the conviction that it was the most powerful decision we could make to positively affect the environment. Later that year, we encountered the concept of moneyless living, as written about by Mark Boyle. Although we still participate in the money economy, Boyle's life got me questioning my own. I examined all the products in my bathroom and realized I really didn't need so many. Then I poked around in my closet and kitchen, and over time I slowly weeded out items that weren't getting used, served no purpose, or could be replaced by another multipurpose item (for example, consider the many kitchen tools you don't need when you have a super sharp knife!).
Once we were exposed to some of these "extreme" ideas, we wondered what we could be doing day-to-day to create a lifestyle we loved. Moving to Austin, Texas in the summer of 2015 afforded us exciting opportunities to make other changes. A city with a goal of "Zero Waste by 2040," Austin is home to all kinds of lifestyles and creative solutions. We soon discovered a city-sponsored program that offered rebates on home compost systems. After looking in our trash bin and observing that over half our waste was food material, I signed up and got a tumbling composter for our balcony. Magically it turned our kitchen scraps into food for our food, enriching the soil for the veggies and herbs I had started cultivating.
Later on (but before the Netflix series) I encountered the "KonMari" method of tidying. Kondo's books inspired me to think even more seriously about the items I chose to bring into my home and my life. It also helped me to release stuff that I had been holding onto. Interestingly, this perspective eventually filtered into how I thought about my relationships – Does this friendship really bring me joy, or have I been keeping it alive out of a sense of obligation? Needless to say, as I redirected my energies to the most meaningful relationships, a few others fizzled out on their own.
Fast-forward to last month, when I borrowed a copy of Bea Johnson's Zero Waste Home from a friend. Suddenly I realized how far I still have to go on this journey! Johnson's maxim of "refuse, reduce, reuse, recycle, rot (and only in that order)" has helped me zero-in on waste-reduction. I have made a couple versions of homemade soy milk (see Miyoko Schinner's The Homemade Vegan Pantry for excellent alternatives to packaged foods, whether or not you're vegan), I'm currently waging war on the junk mail that invariably lands in our box each week, and I have been valuing my time more by opening my laptop only when I have a good reason to. For the first time since childhood, I whipped out a puzzle last week, if that tells you anything about where I'm at right now.
In closing, I had wanted to compose an offering of resources for other seekers, and I hope that you find the above ideas and authors of value. My journey is my own, as is yours, and they are not over yet. But there is one thing I am certain we have in common – when we create space in our homes and our schedules, we empower ourselves to live and love fully.
With gratitude,
Stephanie
Got Blue-Green Mind? ~ Lisa Meranti
August 29, 2018
There is still time to get blue-green mind this summer within the woods and water. Being surrounded by blue (water) and green (trees) can calm and energize the mind and body. Many of you have heard me talk about blue-green mind this summer at various yogAdventures. If you haven't here is my run down on how to get it.
Blue Mind: The research of Wallace J. Nichols, Ph.D. and his colleagues showcases the physical, mental, and emotional benefits to being in and around water. Think about all the things associated with the color blue– water, clear sky, cool temperatures, mellow moods. These things can make us calm and keep us clear headed.
Red Mind: Now think of the opposite -red- associated with fire, hot temperatures, stop lights, danger, and stress. So a red mind, as researching Michael Gross published in 2014, is when we are stressed, hot headed, can't think clearly and need to stop.
Green Mind: Then there is the work of Kathleen L. Wolf, Ph.D. and others that study the benefits of being among trees and other thriving plants. This can then be called green mind and associated with a state of mind that is growing and going for your goals like the trees.
Blue-Green Mind: Putting together the understanding and practices of blue and green minds is the ultimate in growth mindset, as I see it. When in a state of blue-green mind, you can achieve your dreams with ease and focus. You can get this by being around calming and energizing elements in nature.
Having a mind and body primed to achieve my goals with clarity and ease is the blue-green mind experience I am going for in life. Would you like to join me? We still have time this summer and fall (and maybe this winter– more to come on a possible winter blue-green yogAdventure) to get out on the water and among the trees to soak in their blue-green energy and mindset. If I can be of service to help you find blue-green mind, please reach out in email, Facebook, or in-person at the commUNITY gatherings listed on the calendar page. 
See you in the woods and water soon!
Lisa's blue-green glow after 2018 Tri for Hope @ Alum Creek State Park | Aug 18
Listen ~ Lisa Meranti
May 22, 2018
Spring 2018 has been a season of abundant personal growth, deep listening, community, and adventure. I have seen big dreams become reality for me and others. As I continue to listen to all the lessons and memories, here are some of my initial reflections from the Panama Beach Yoga Retreat:
For Earth Week 2018, I was incredibly fortunate to travel to Panama with a great inspirational teacher and friend Maria Santaforro of Daily Downward Dog and a group of yogis from Ohio and beyond. We stayed at the dream-come-true resort of Janel and Mike Phillps, Sansara Surf & Yoga Resort— this place is so built with love and deep listening to the landscape.
Each morning, I woke up at sunrise to listen to the waves and birds. Ok, I also listened and talked back to the little voice in my head saying "how did you get here; what do you have to offer this world and this group of yogis?." Well, it happen because one day I said, "I want to go on retreat with Maria" (thinking as a participant). And someone was listening. The next week Maria asked if I would go on retreat with her to lead SUP Yoga and Vin yoga sessions. What?!! Thank you, universe, for listening!
I am so grateful that I listened and vocalized my dream of going on retreat with Maria. I am incredibly honored that each day there (and beyond) I can offer my love of and for nature. It was truly magical to be in such a place filled with love, help others get on a Standup Paddle Board in the Pacific Ocean for the first time, relax in the yoga shala, learn to surf from amazing surfing instructors, have yoga dance parties, eat delicious local foods (and watch others eat some foods for the first time), connect with amazing Earth caregivers, teach yoga to local students, clean the beaches, listen and conquer fears, and so much more.
Lisa and Maria soaking up sunset
Colleen first time on SUP!
If you are dreaming of an international retreat, listen to that calling and check out the 2019 Panama Retreat with Maria.
Panama Paradise Beach Yoga Retreat 2018 video
Adventures of a SUP Yogi ~By Lisa Meranti
April 3, 2018
Freedom | Joy | Connection | Respect | Flow | Oneness | Humbleness | Accomplishment — These are all the feelings I get when on a SUP (Standup Paddle Board) practicing yoga and this is the story of how it came to be.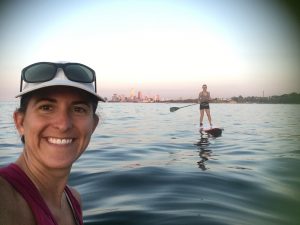 Growing up in and around waters of New Jersey, I developed a deep love and respect for the water. I felt drawn to the water's edge many times despite being swept under by undercurrents and being stung by countless jellyfish. Why would I want to come back? Because of the beauty and the mystery, the changing tides of the ocean, changing flows of the rivers, the consistent rhythm of the waves, and the consistent way rivers take the path of least resistance.
Since those early years on water's edge, time on the water got more adventurous, my yoga practice took root, and I earned degrees in Environmental Sciences with a focus on water quality. As I continue to me immersed in the reality of the interconnectedness and fragility of all in nature, my time in water and on the yoga mat keep me grounded. And there is science that back this (for more on this read "Blue Mind" by Wallace J. Nichols).
My adventures on the water changed course when a friend invited me to a SUP class on Lake Erie in 2010 and after several SUP adventures, including in Virgin Islands National Park. I was hooked on SUP and SUP Yoga. SUP offered me a new platform to see and experience water in a whole new way. Being able to sit, kneel, stand, and lay on a board was the perfect combination for me. SUP adventures in the ocean allowed me to experiment with how the board responded to waves and my body to poses on the board. All seated poses, downward dog and low lunge were natural feeling on the board. Warrior and balancing poses presented a fun challenge. And savasana…an experience like no other. I was hooked on yoga on SUP.
In winter 2017, my main adventure was obtaining my American Canoe Association (ACA) SUP Level 1 and SUP Yoga certification in St John with instructors Matt Hite and H2yo! with Julie Roach. What a joy! What a challenge! With certification and board in hand, summer 2017 was filled with many more adventures on SUP and teaching over 75 people how to find their love of water and yoga via a SUP. I have had students of a wide age range, some with no yoga experience, and some never on water. All have found a way to find their own adventure on the board. I love the adventure of teaching SUP basics and SUP Yoga that makes yoga on water accessible to all.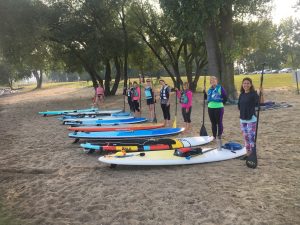 The adventure of combining SUP and yoga is a humbling experience. Taking your yoga to a SUP opens up a whole new world. The board provides you with instant biofeedback. Let's just say there is no cheating in SUP Yoga. And blue mind is achieved when the mind chatter dilutes and focus becomes crystal clear. The experience is so freeing. Really what would be so bad about falling out of a pose and into a safety net of water? When else do you get to just go with the flow or walk on water?
Ready to catch the wave of SUP Yoga and your big SUP adventure? See you on the water for freedom, joy, connection, respect, flow, oneness, humbleness, accomplishment, and more in 2018! Together, we can open up your blue mind on a SUP yogAdventure. To learn more about me or Onetreelove, scroll our website or find us on Facebook.
---
St. John Retreat ~ Rachel
January 31, 2017
Rachel attended the January, 2017 OneTreeLove retreat in the U.S. Virgin Islands and had this to say about her trip:
Sighs… What a site the Virgin Islands are. The clear ness of the deep blue water will not easily be forgotten. Those steps we made took us to a wide variety of places. From hiking the rocky trails to beautiful soft beaches under our feet. As we stopped along the way to identify trees, our hikes took us to ruins and an old sugar mill. The sweetness of the sugar mill was made even sweeter by the bats that lined the ceiling. It was neat to just absorb the environment and imagine the old mill up and running. As I stood there, it was impossible to not just stop in awe and admire the old rusted gears.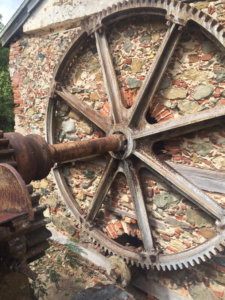 A stop at the nearby beach to the area showed an impending storm. The storm ended up being a nice refreshing misting, only slightly heavy at times. Later in the day other sights were to be seen. While my trip mates seemed to be like fish in the water, I took my time to submerge myself. How glad I was to take the plunge as it led to some wonderful sights. Another day of snorkeling we saw sea turtles and even a small turtle that was not known to the waders not far from shore. The turtles were incredible to see, as we watched them scouring the ocean floor for sea grass. Another day was full of activity as we started the day with an early morning hike. The night hike revealed large spiders, beaches lined with large pebbles and the grand finale
brought us to the windiest part of the island. We got up Ram's head point with enough time to see the sun come up. It was wonderful even though we were just able to see it as it peaked through the clouds.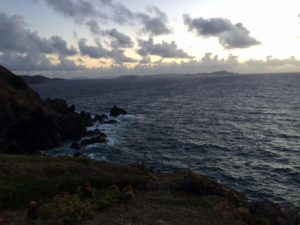 The middle of the day brought more snorkeling which led us to a small beach right off the road. As we ventured further from shore a degree of fear creeped up from the deep abyss below. Such a wonderful world below but you can easily feel like you are on an alien planet at times. Snorkeling led to a little more salt than desired through the mask. However, this ended up being a great decongestant. The end of the day brought paddle boarding, which was awesome. Perhaps only as a result of our wonderful teacher, Lisa, was responsible for this. Teresa and I took turns on the one board and I graciously let her go first. Balancing wasn't terribly difficult despite the choppy conditions. I decided to not let myself fall and ended up looking like
I was stuck like glue to the board as I walked further backwards. What an eventful day that turned into a productive trip. All in all, that water brought clear what fears could perhaps easily be overcome.