2021
March
Need a loving touch of grounding energy? Find a comfortable position to rest with a OneTreeLove eye pillow or hand hearts. Take a few slow balancing breaths for an equal count in and out. You might find that five breaths of a five count might be right right. Or for extra grounding, try lengthening your exhalations.

Get your eye pillow and/or hearts: Buy here to be mailed, delivered, or picked up.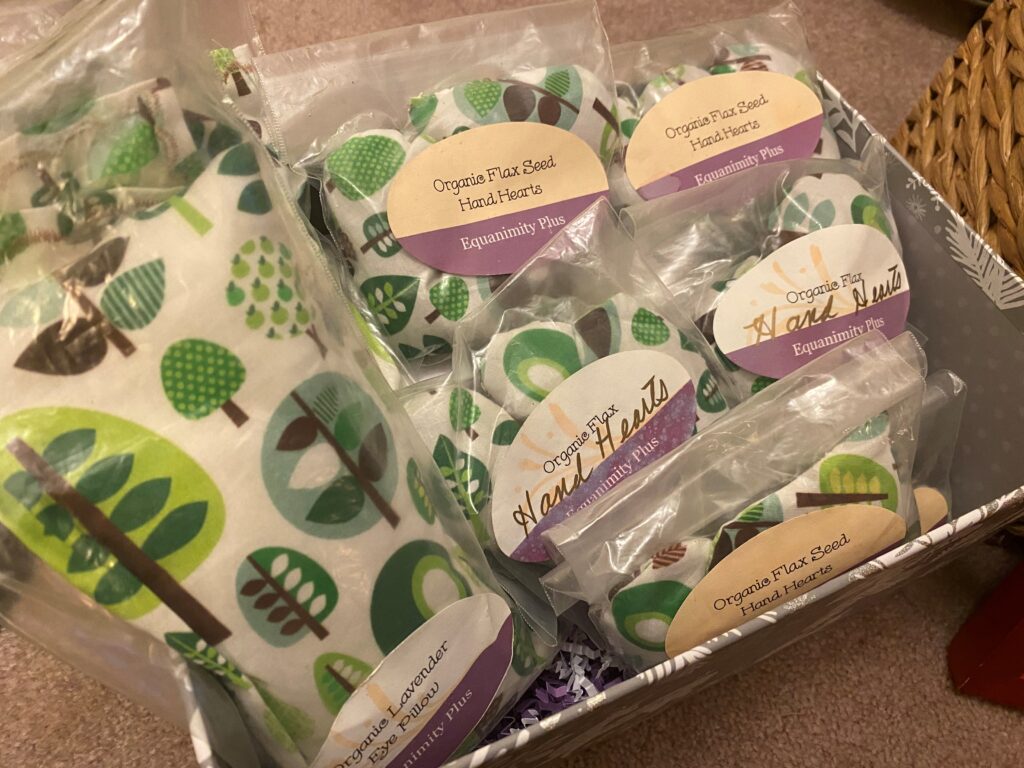 2020
December
Let's find some love of winter. Here are some ways to set the mood and step outside safely and mindfully.
Resources:
Winter Love song by Zach & the Bright Lights (NEO musicians)
Classroom Resources for Teaching the Winter Season by Teacher Planet
Winter Mindfulness Activities for Kids by the OT Toolbox
Winter Recreation Resources by #RecreateResponsibly
November
We invite you to take some time to learn something new or share what you know with others. Here are some lesson plans and learning resources to connect more with trees and lichen for big and small kids. 
Resources:
Learning Lichens Curriculum by US Forest Service
Learn about Lichen by Wildsight Education

The Secret Language of Trees (on TED-Ed) by Camille Defrenne and Suzanne Simard
Tree Toolkit: Lessons and Educator Resources for Teaching About Trees by Jeff Chandler, NEEF
October
In addition to recreating in nature, take some time to learn the deep history of the land and those that came before us. Connecting with the past, expressing our gratitude, and attuning for the mistakes will carry us well into the future as we embrace a sustainable present.
Resources:
Rocks, Ice, River of Cuyahoga Valley
The Prehistoric People of Cuyahoga Valley
Celebrating our First People with Cleveland Metroparks
"The Archeology of American Indians in the Cuyahoga Valley and Northeast Ohio" by Dr. Brian Redmond
"Summit County recognize North American First Peoples Day" by Akron Beacon Journal
September
It is the summer's great last heat,
It is the fall's first chill: They meet.
–Sarah Morgan Bryan Piatt
Autumn is a great time to garden and plant native perennials (ones come back every year), including trees. The plants get a stronger start by acclimating over winter to the soil and establishing a strong root system. You get to enhance your physical, mental, and emotional well-being with exercises that is good for you and the planet. The needs are people and planet can be met with a fall planting project.
Resources:
Arbor Day Foundation- Why It's Great to Plant Trees in the Fall
Cleveland Metroparks- Landscaping for Biodiversity with Ohio Native Plants: A Species Guide for Plantings
Dr. Kathleen Wolf, Ph.D. – Health Benefits of City Trees: Research Evidence & Economic Values
Independent Tree- Fall Planting Guidelines for Northeast Ohio
Lake Erie Allegheny Partnership for Biodiversity- Changing Climate, Changing Trees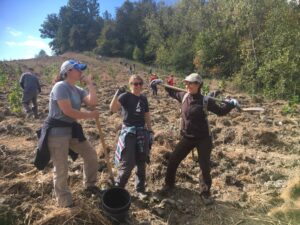 Photo: Lisa and friends taking a rest during tree planting @ Cuyahoga Valley National Park | Sept 2017
August
Let's give back to our waterways and stop the spread of aquatic hitchhikers. Together, we can protect our waters that sustain us. Practice the clean, drain, dry method with your watercraft.
What other sustainable practices do you have to keep your impact on the natural world a positive one? We would love to hear from you; contact us.
July
Strap up a hammock or sit under a tree. Gather a good read that could improve your mental, physical, and emotional well-being.
Enjoy these book recommendations:
1) Braiding Sweetgrass: Indigenous Wisdom, Scientific Knowledge and the Teachings of Plants (by Robin Wall Kimmerer)
2) Blue Mind: The Surprising Science That Shows How Being Near, In, On, or Under Water Can Make You Happier, Healthier, More Connected, and Better at What You Do (by Wallace J. Nichols)
3) Death and Life of the Great Lakes (by Dan Egan) 4) The Nature Fix (by Florence Williams)
5) Forest Bathing: How Trees Can Help You Find Health and Happiness (by Dr. Qing Li)
6) Overstory (by Richard Powers)
7) The Long Long Life of Trees (by Fiona Stafford)
8) The Hidden Life of Trees (by Peter Wohlleben)
9) The Forest Unseen: A Year's Watch in Nature (by David George Haskell)
10) The Urban Tree Book (by Arthur Plotnik, in consultation with The Morton Arboretum)
11) American Canopy: Trees, Forests and the Making of a Nation (by Eric Rutkow)
12) The Woodlanders (by Thomas Hardy)
13) Apple Acre (by Adrian Bell)
June
Do you have something(s) that you get heated up about? Something you have a burning passion for? Mine has been on doing my part to help heal nature (largely waterways) and help people be healed by nature.
In the process, I have been burnt out. Telling my story has been a helpful healing process over the years. It has helped me find comfort in my journey and the uncomfortable parts of it to know it has had a greater purpose.
This month our wellness tip is also a challenge to the OTL community! Tell us your story. We want to hear from you in the YouTube video comments, Facebook comments, email, your own storytime video, etc.
Listen to part of Lisa's story here: https://youtu.be/W2GqHj-tUAM
Read part of it here: https://www.tnonline.com/20170908/rooted-in-jim-thorpe-2/
Help rewrite the story of plastics in our waters: https://www.plasticfreejuly.org/
May
In Puerto Rico (and many other tropical areas), mangrove trees are a critical part of the coastal ecosystem. They create a uniquely protected habitat in the space between land and sea. Learn more about mangroves from The Nature Conservancy.
As we continue to navigate uncharted waters, we can draw inspiration from these special trees. We invite you to reflect on:
What healthy habits are rooting and nourishing you now?
What habits will you carry forward in the coming weeks?
In what ways, do you embody a resilient mangrove?
We would love to hear your reflections; share on our Facebook page or in a email message.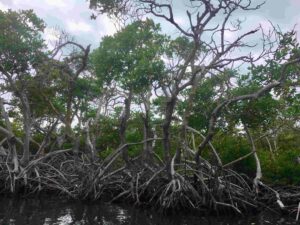 April
Native plants offer personal and ecological well being. Gardening is good for your mind, body, and spirit. And April is designated as Ohio Native Plant and Earth Month (April 22 is the 50th anniversary of Earth Day; April 24 is Arbor Day).
Ohio is the first state to have a month dedicated to native plants thanks to House Bill 59 signed in 2019. So this inaugural Native Plant Month could be a good time to learn about all the wellness benefits of native plants and spread some of their love. Learn more at ohionativeplantmonth.org.
We would love to hear what native plants you have growing; share on our Facebook page or in a private message.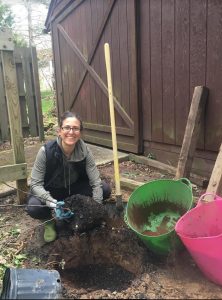 February
Appreciating and aligning to your dosha can help bring balance to your life. In Ayurveda, doshas are three energies comprised of the five elements (ether, air, fire, water, and earth) that make up our mind-body type. The doshas are expressed in our physical, mental, and emotional characteristics.
To learn which dosha you are, take the Chopra Center's free online dosha quiz. For guidance on how to make adjustments in your life based on your dosha, visit an Ayurvedic health practitioner or Functional Medicine doctor.
We would love to hear what dosha you are; share on our Facebook page or in a private message.
January
Pause and consider the difference sympathy and empathy. Check out this video by Brene Brown to understand the difference so we can see and hear each other– our hopes, our challenges, and our dreams.
We would love to hear how you express empathy; share on our Facebook page or in a private message.
2019
December
Turn the lights off and turn up awareness. What would happen if you turned off the lights while you showered? Of what about closing your eyes on a flat stretch of trail on your next hike? What about closing your eyes during part of your yoga practice?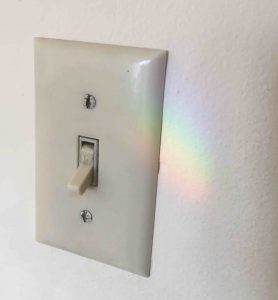 Limiting one sensory input can give us heightened awareness of another. Take a moment to consider a way you can turn up your awareness of taste, touch, sound, and smell and what that brings up for you. We would love to hear how this goes for you; share on our Facebook page or in a private message.
November
Take a mindful walk. Venture to Stark County's Petros Lake Park. In partnership with Stark Parks and Stark Mental Health Addiction & Recovery (StarkMHAR), a mile trail takes visitors through different habitats and activities related to mental health and self-care. Ten stations promote relaxation, focus and awareness, reflection, and embracing the present moment.
Stack stones
Rack a zen sand garden
Play a musical instrument
Walk a labyrinth Feel your soles on different trail surfaces
Sit on a bench to listen, look, and reflect
Or…bring these activities to your next walk in the woods or location park.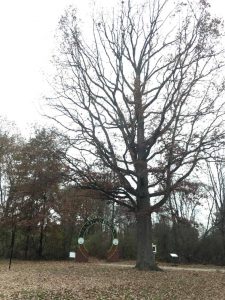 October
Plant the right tree in the right place with the right care. It isn't about getting a tree in the ground, it is about the leaves in the air. Therefore, it is important to ensure that you are planting the right tree in the right place with the right care so that it will live a long, healthy life.
Here are some tree facts and resources to help you do so:
"The planet has room for about 2.5 billion acres of forest, and all those trees could suck up an additional 200 gigatons of carbon."
"To have a meaningful effect, a tree must live at least 10 to 20 years."
 "…oaks can be great in the Northeast, while ficus trees might work better in Southern California. In the Northwest, just about everything does well."
 Plant the right tree in the right place. These I-Tree tools can help- https://www.itreetools.org
 Don't rely on luck— take care of your tree. Hire an ISA certified arborist when you have a tree in need of extra love. Find one here- https://www.treesaregood.org.
Source: https://www.nytimes.com/…/clima…/nyt-climate-newsletter.html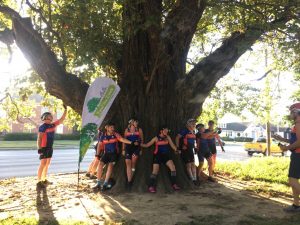 Photo: Largest sassafras tree  visited and blessed during Tour des Trees @ Owensboro, KY |  Sept 2019
September
Mindfulness…having the mind be fully attentive to the present. The word on the streets and countless studies is that mindfulness is great for our wellbeing. But what can help you put it into practice? The practice of mindfulness doesn't have to be still on a meditation cushion (although, I do love my sitting meditations tree-mendously). It can be while driving, cooking, biking, walking, swimming, listening to sounds of nature or music, on your yoga mat, and so much more.
Mindful movement or meditation in motion lights up my soul and lightens my body and mind, especially through activities that require my full concentration like SUP yoga. Bringing my asana yoga practice to the board, I become finely aware of how my body moves and flows (or resists) on the water. It also puts me in full attention to what nature is doing- the wind, waves, and water. It puts me in the present.
What does it for you? Does it involve movement or stillness? Seek out more time for that and experience the wellness benefits of a present mind.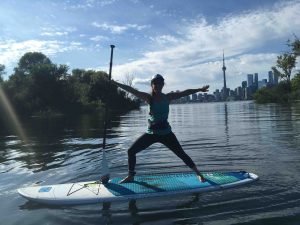 August
Find inspiration in food and those that grow and prepare it locally. Here are my go to's:
~Blueberries = Greenfield Berry Farm, Peninsula
~Herb and green veggies = Purplebrown Farmstead, Hudson
~Other fresh local produce = Countryside Farmers' Market, Peninsula
~Prepared gluten-free foods using local produce = 24 Karrot Kitchen, Brecksville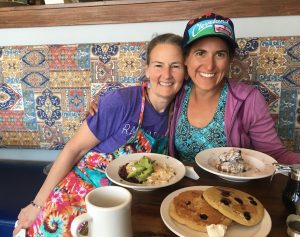 Owner and chef of 24 Karrot Kitchen Kathleen is a true inspiration in how she sources and serves up local, gluten-free meals. I have been gluten-free for five years now and feel it has been a huge benefit to my mind and body. Then Kathleen entered my life about a year ago and helped me re-introduce bread and cake back into my life as a nice treat…all gluten-free. l don't know how she does it, but everything she cooks is so delicious and nutritious.
July
Find freedom and tree-dom in a hammock. Taking in the serenity and freedom among the trees can be done with these tree-friendly tips.
Choose your tree carefully
Use tree hugging straps or padded rope
Remove the hammock and straps after each use
Try out Faux tree posts or a hammock stand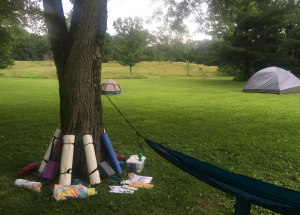 Photo: Tree-friendly hammock set up @ Bath Hollow Farm | July 2019
June
Tread lightly on the planet. Practice Leave No Trace to promote the wellness of the outdoor experience for all. Read more about the 7 Principles of Leave No Trace here: https://lnt.org/why/7-principles/.
Plan Ahead and Prepare (Get the Gear!)
Travel and Camp on Durable Surfaces
Dispose of Waste Properly
Leave What you Find
Minimize Campfire Impacts
Respect Wildlife
Be Considerate of Other Visitors
May
Eat from the rainbow (best eating advice I got in college). Try eating a variety of nutrient dense foods that represent many colors of the rainbow. Here is some insight and a Food Rainbow Game for kids from WebMD:
Red fruits and veggies help keep your heart strong.
Orange fruits and veggies help keep your eyes healthy.
Yellow fruits and veggies help keep you from getting sick.
Green fruits and veggies help make your bones and teeth strong.
Blue and purple fruits and veggies help your memory.
April
Trees remind us that we can accomplish our goals and grow in an unhurried way. They are a symbol of blue-green being/mindset. For more on blue-green mindset visit 
onetreelove.com/reflections
.
This Friday, April 26 is Arbor Day, a day I invite you to start our wellness tip challenge. Here is the challenge:
Select a deciduous tree to watch slowly flower or burst buds, grow, and transform.
Take note of your selected tree routinely now until its last leaves fall this autumn.
Snap a photo of your tree, draw it, write about it, or whatever way you wish to capture your experience.
Let this tree serve as your reminder to not hurry through the seasons and accomplish just what you are meant to in a given day or season.
Share your tree with us and how captured your treemendous experience. #OneTreeLove #treelove #treethanks
Photo: Lisa's selected tree- Weeping Willow @ Edgewater Beach, Cleveland, Apr 13, 2019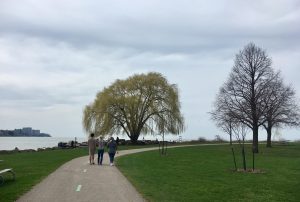 March
Balancing poses promote focused attention, leg strength, and grounding for the body and mind. As in all poses, it takes mindfulness to find balance. Try these tips to find harmony in tree or other standing balance poses:
 
1) Spread your base and root your feet down.
2) Set your gaze on something that isn't moving.

 

3) Draw attention and energy to the center line of symmetry of the body.

4) Connect with the inhale to lift you up and exhale to root you down.

5) Fall with grace and try again (or as a 5th grader once told me See-Mme-Try).
February
Zero-waste. "Spark joy." Minimalism.
 
You may have noticed some of these words buzzing around lately, especially in light of the recent Netflix series "Tidying up with Marie Kondo." These ideas have been inspiring me to evolve over the past five or so years, from a mindless consumer to a more conscientious human. Here are a few ideas that you can start implementing today and spread some love to the planet!

Look in your trash and recycling bins. What things are inside that you didn't really need, that could still be put to use, or that could be composted? Make a commitment to reduce your waste by even a small amount in the next week.
Refuse to accept items you know you don't need like free pens, samples, and receipts.
Reuse the food containers you already have. Stash a few in your bag or vehicle so you can fill them up at the grocery store or your favorite restaurant.

Continue reading Stephanie's reflections on her journey toward reducing waste with the 5 R's…click here for the OTL reflections page.
January
Is being more mindful part of your new year intentions? What color represents your mind? Many of you have heard me talk about blue-green mind at various yogAdventures. If you haven't, here is my take on it:
Red Mind: Red- associated with fire, hot temperatures, stop lights, danger, and stress. So a red mind, as researcher Michael Gross published in 2014, is when we are stressed, hot headed, can't think clearly and need to stop.
Blue Mind: The research of Wallace J. Nichols, Ph.D. and his colleagues showcases the physical, mental, and emotional benefits to being in and around water. Think about all the things associated with the color blue– water, clear sky, cool temperatures, mellow moods. These things can make us calm and keep us clear headed.
Green Mind: Then there is the work of Kathleen L. Wolf, Ph.D. and others that study the benefits of being among trees and other thriving plants. This can then be called green mind and is associated with a state of mind that is growing and going for your goals like the trees.
Blue-Green Mind: Putting together the understanding and practices of blue and green minds is the ultimate in growth mindset, as I see it. When in a state of blue-green mind, you can achieve your dreams with ease and focus. You can connect with this mindset by being around calming and energizing elements in nature.
2018
August
The moon (she) is powerful. She impacts the ocean tides. She impacts our bodily tides (you are made up of about 70% water). She reflects light. She waxes and wanes. She reminds us to keep our cool.

 
This full moon (Sunday), spend some time soaking in some self love and moon shine:
Take a full moon walk.

 

Take a bath.

Reflect under the moonlight.
Harvest your crops.

Howl at the moon.

Do moon salutations.
June
Soak in the sun's energy through food! Try loading up on your greens from local farmers. Green veggies are good for you mind, body, and planet. You will be feeding your brain and body with vital nutrients you need to think and do good. You will be feeding your heart with the love of nature to feel good. You will be feeding the planet with reducing energy consumption and supporting the local economy to be a good steward.

 
April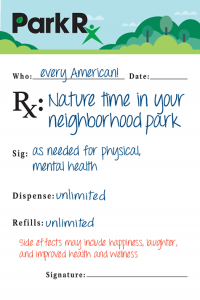 Nature is able to clean us from the inside out and heal us physically, mentally, and emotionally. Take in some ParkRx this Earth month with Earth Day (April 22), Arbor Day (April 27), ParkRx Day (April 29), and National Park Week (April 21-29), and National Volunteer Week (April 15-21). Here are a few steps:
Take a break with a walk in the woods taking in the sights, sounds, smells.

Take a pledge to stand #fornature and share with friends and family.

Take part in an Earth Day celebration.

Let go of screen time and #optoutside.

Let nature be the teacher; go on a nature play date.

Give back to the abundant parks in our nation by volunteering,

 planting a tree

, or

growing a native garden

in your yard.
---
March
Spend some time in or around water to develop some Blue Mind. Research shows the positive impacts of water on the whole body and mind. Read on… or check out one of my favorite books.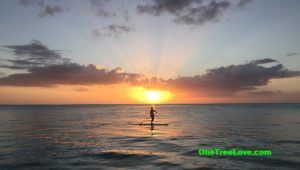 ---
February
Give and receive love by emerging yourself in a welcoming and loving community. Being around people that fill you up with love has treemendous benefits to your mind, body, and spirit. Why not volunteer, join a book club, or take a group hike? Or attend the BIG LOVE FEST on February 24 in Akron!
---
January
Enhance your sweet dreams by making bedtime relaxation a reality!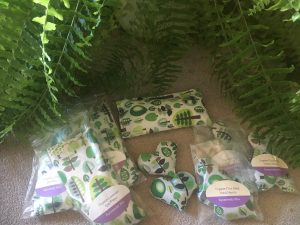 OneTreeLove eye pillows and hand hearts made exclusively by Equanimity Plus make a great gift for yourself or others to promote deep relaxation. To purchase, fill out the contact form on the web site.
---
---
2017
November
When we make space in our lives to pause, reflect, and be GRATEFUL, a whole new world can open up.
Go for a walk.
Pause to take in the beauty of change within a tree.
Reflect on ways you can be GRATEFUL for changes you see within the tree.
Can you apply this same GRATEFUL attitude to changes in your life?
---
October
Spread the love. Feel the ONEness. Develop a self love home practice. Get up a few minutes before others in your house or slip away a few minutes early at night. Find a quiet spot to be still and find your breath. Use an eye pillow, hand hearts, and blanket to help you relax into the earth.
OneTreeLove eye pillows and hand hearts made exclusively by Equanimity Plus can help you get grounded. Purchase a set at any of Lisa's classes.
---
September
Spread the love— plant trees and feel the ONEness to all living things. We are certainly not alone with the struggles and beauty of life, but we can all give a little love, kindness, and connection.
Join Lisa in doing some karma yoga and planting some trees in Cuyahoga Valley National Park on National Public Lands Day (Saturday, Sept 30). 
---
July/August
Savor all the summer goodness from your garden with some quick pickling. Harvesting right from your garden (or a neighbors) and pickling the goods will give you a little dose of summer for the next few months. Check out this simple recipe that I did without the sugar.
---
June
Unstructured outdoor playtime is good for mind, body, and spirit. It helps increase creativity, intelligence, kindness….read more here.
What is your favorite outdoor play activity? Perhaps its the new Nature Play stations in Summit Metro Parks. Share with us by tagging #OneTreeLove and #playoutside on Facebook.
---
May
Dear friend,
Go with the flow
Be thoughtful of those downstream
Slow down and meander
Follow the path of least resistance
for rapid success
Immerse yourself in nature,
trickling streams,
roaring waterfalls,
Sparkles of light dancing on water
Delight in life's adventures around every bend
Let difficulties stream away
Live simply and gracefully in Your own True Nature
moving, flowing, allowing,
serene and on course
It takes time to carve the beauty of the canyon
Rough waters become smooth
Go around the obstacles
Stay current
The beauty is in the journey!
Source:  YourTrueNature.com
---
April
Spring cleaning doesn't just apply to your closets. Spring is a time of new beginning, habits, and practices. Perhaps its:
Switching from toxic cleaning products to naturally-made products
Reducing electronics or car travel for a day
Increasing outdoor time
Or whatever will serve you and nature better
To help release old energies harbored in the body and welcome new starts, try practicing hip opening yoga poses such as lizard or pigeon. Clear the mind as well with cleansing breath…breathe in fully fresh new "prana," life force energy, and breathe deeply out "apana," old stale energies which are no longer needed.
---
March
Invite more balance into your life by regularly practicing vrksasana (TREE POSE)! Our favorite standing yoga pose at OTL improves physical balance, mental focus, connection of right and left brain hemispheres, self confidence and self esteem.
Place a hand on a wall, counter or chair and look down at a point on the ground to feel more stable.
For a balance challenge, shift your gaze up or close your eyes.
Try tree pose with others and become a forest!
---
February
Here's a little snack that will bring you some big love taste and health!  Bear Scat is one of the new plant-based recipes featured in Rip Esselstyn's latest cookbook, The Seven Day Rescue, that Darlene was a taste-tester for. Serve up the scat snack on your next hike.
Bear Scat, 12 servings:
1 cup dark, non-dairy chocolate chips
1 cup fresh organic blueberries
Line a baking sheet with parchment paper. Melt the chocolate in a double boiler or microwave. Pour in the blueberries and stir lightly. Place tablespoon of the mixture on the baking sheet and place in the freezer overnight. Dip in your fav nut butter for even more love!
---
January
Home-cooked meals are big love. Give yourself some time on Sundays prepping some healthy foods to start your week. It is living big to try a variety of fruits and veggies, and big love to keep it simple.
Try simple roasted cauliflower:
Cauliflower, coconut oil, salt, pepper, and your fav spices- bake on 350 degrees for 20 min (or longer depending on your preference)
---
---
2016
December
Redefine your morning. Start your day in a gentle way by creating mindful morning practices:
~ Recognize your gratitude attitude and positive intentions before stepping out of bed.
~ Stretch in ways that feel good and fun…like a tree, cat, happy baby.
~ Drink some water or tea.
~ Read something fun and empowering.  
---
November
Choose gratitude. Take a moment or several throughout your day to recognize what you are most grateful for and watch as it cultivates more gratitude. For a 30 day gratitude practice, check out my friend's book.
---
October
Organic foods sourced locally are good for you and the planet. Organic foods reduces toxins being introduced to your body and the earth. And your carbon footprint is also reduced when purchasing from growers in your backyard.  
To learn about what is growing around you: check out LocalHarvest.org
To learn about the dirty dozen and clean fifteen: visit Environmental Working Group's website
---
September
Forest therapy (some call it forest bathing) is taking root! Schedule some time for yoga, hiking, or meditation among the trees to connect mind, body, and planet. 
To learn more: check out this article