Rachel attended the January, 2017 OneTreeLove retreat in the U.S. Virgin Islands and had this to say about her trip:
Sighs… What a site the Virgin Islands are. The clear ness of the deep blue water will not easily be forgotten. Those steps we made took us to a wide variety of places. From hiking the rocky trails to beautiful soft beaches under our feet. As we stopped along the way to identify trees, our hikes took us to ruins and an old sugar mill. The sweetness of the sugar mill was made even sweeter by the bats that lined the ceiling. It was neat to just absorb the environment and imagine the old mill up and running. As I stood there, it was impossible to not just stop in awe and admire the old rusted gears.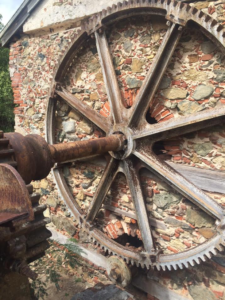 A stop at the nearby beach to the area showed an impending storm. The storm ended up being a nice refreshing misting, only slightly heavy at times. Later in the day other sights were to be seen. While my trip mates seemed to be like fish in the water, I took my time to submerge myself. How glad I was to take the plunge as it led to some wonderful sights. Another day of snorkeling we saw sea turtles and even a small turtle that was not known to the waders not far from shore. The turtles were incredible to see, as we watched them scouring the ocean floor for sea grass. Another day was full of activity as we started the day with an early morning hike. The night hike revealed large spiders, beaches lined with large pebbles and the grand finale
brought us to the windiest part of the island. We got up Ram's head point with enough time to see the sun come up. It was wonderful even though we were just able to see it as it peaked through the clouds.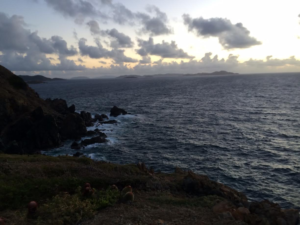 The middle of the day brought more snorkeling which led us to a small beach right off the road. As we ventured further from shore a degree of fear creeped up from the deep abyss below. Such a wonderful world below but you can easily feel like you are on an alien planet at times. Snorkeling led to a little more salt than desired through the mask. However, this ended up being a great decongestant. The end of the day brought paddle boarding, which was awesome. Perhaps only as a result of our wonderful teacher, Lisa, was responsible for this. Teresa and I took turns on the one board and I graciously let her go first. Balancing wasn't terribly difficult despite the choppy conditions. I decided to not let myself fall and ended up looking like
I was stuck like glue to the board as I walked further backwards. What an eventful day that turned into a productive trip. All in all, that water brought clear what fears could perhaps easily be overcome.